28 May

Traveling Rings and the Narragansett Machine Co.

Perusing online text archives, although tedious, can lead to some lost gems of history. Today I stumbled across a catalog for gymnastic equipment published in 1905 from the Narragansett Machine Company of Rhode Island. The company dates back to about 1882 and began manufacturing woodworking & metalworking lathes then switched to selling fitness equipment by the turn of the century. The Narragansett Machine Co. even had a booth at the 1893 World's Fair in Chicago showing off their gymnastic equipment as well as some bizarre strength measuring tools.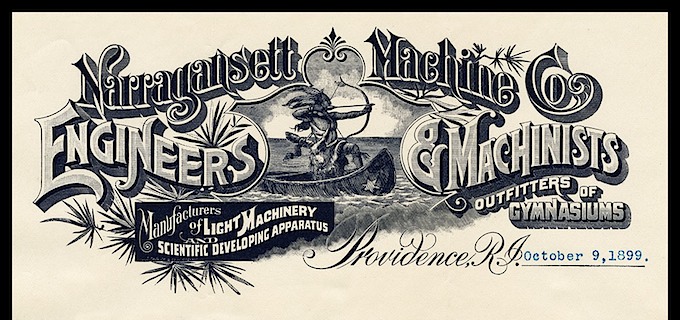 In their 1905 catalog traveling rings were on sale for the sum total of $6 dollars each, which included the leather covered steel ring, rope, rocking joint and top attachment. Seems like a great deal but adjusted for inflation each ring would cost about $145 dollars today, which is pretty much exactly what modern rings cost.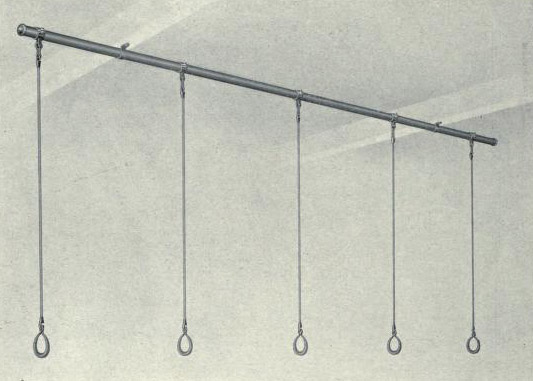 The traveling rings produced by the Narragansett Machine Co. were stirrup shaped and suspended by hemp rope like most rings of that era. A steel header beam could be installed to hang the rings. This setup laid the foundation for the outdoor rings we use today.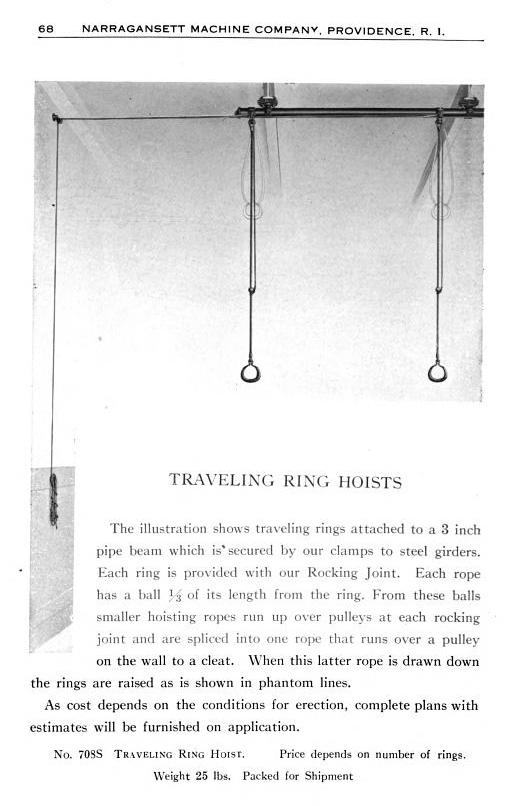 The company also produced a hoisting system for the traveling rings so that the rings could be drawn up when not in use. It's a pretty clever idea that I have not seen used today but I'm sure will be returning soon.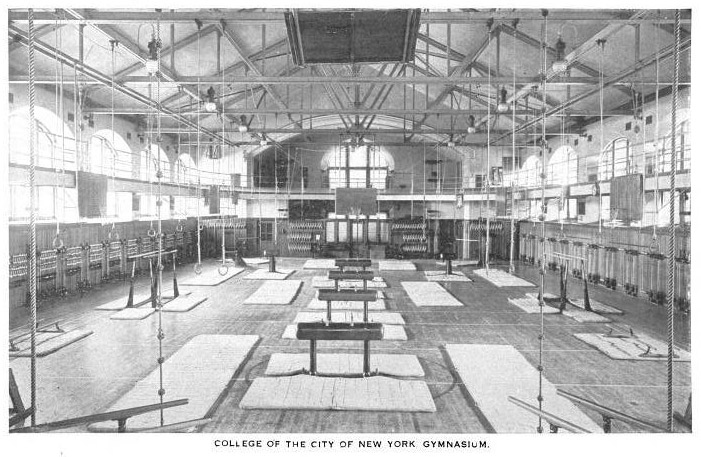 The 1916 version of the catalog even included a photograph of the New York City College gymnasium with all the installed gymnastic equipment (including traveling rings and flying rings).
Archive.org has the full catalog from 1905 (web): Catalogue of Gymnastic apparatus – Narragansett Machine Co. 1905
The 1916 catalog can be downloaded here (PDF): Catalogue of Gymnastic Apparatus – Narragansett Machine Co. 1916