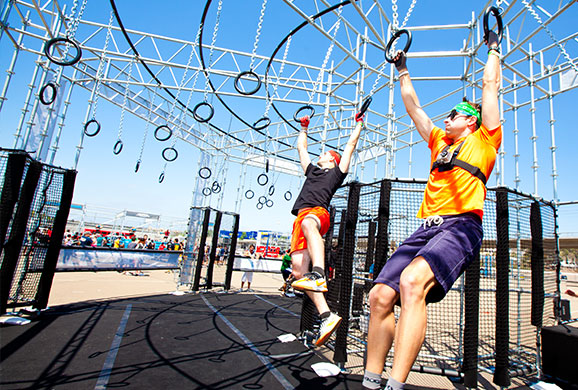 26 Dec

Traveling rings course at Alpha Warrior

Let me begin by admitting something – I've had a nagging desire to try out for Ninja Warrior (known as Sasuke in Japan). Not only is the Ninja Warrior course close to impossible to finish but it's a challenge just getting accepted for the show. Still, the fantasy of challenging myself to complete the course remains.

Luckily a new challenge has been born. It is known as Alpha Warrior.

What exactly is Alpha Warrior?

Their website has this (ambiguous) answer:
Simple answer? A new breed of obstacle course that will push in ways that you've never been pushed before.
Alpha Warrior is swinging on Broken Bars 30 feet in the air.
Alpha Warrior is bounding 14-foot gaps by trampoline.
Alpha Warrior is ascending 20 feet enclosed by glass.
Seems very similar to Ninja Warrior… still sounds fun. The best explanation of Alpha Warrior comes in the form of a Youtube video filmed by someone doing the trial course in San Diego. The 21 minute video, shot in first-person style POV,  shows the various course elements ranging from traveling rings to a "spider wall" to trampoline jumps.
The traveling rings themselves seem pretty well made, albeit without swivels. The rings are spaced pretty close together (what seems like 3-5 feet) and are constructed of plastic suspended by metal chains. There are around 40-50 rings arranged in a semi-circle formation.
The information on the Alpha Warrior website seems a bit vague. I am still unsure whether it is going to be filmed for television or simply an event for athletes to have fun with. From what I can gather it's a business venture that will first be tested in San Antonio and San Diego. If people sign up and Alpha Warrior gets a lot of publicity then they will set up the course in other cities. The Tough Mudder challenge donates a portion of its income to the Wounded Warrior Project, a non-profit organization which aims to help returning American soldiers. Unlike Tough Mudder, there isn't any mention of where the proceeds of Alpha Warrior will go or even who is behind the event.
That being said, the course still looks to be heaps of fun. You shouldn't expect to come here and do any crazy tricks on the rings if you want to complete the other 15 segments of the course. Their website states that the full course takes up to 45 minutes for regular participants – so save some energy!